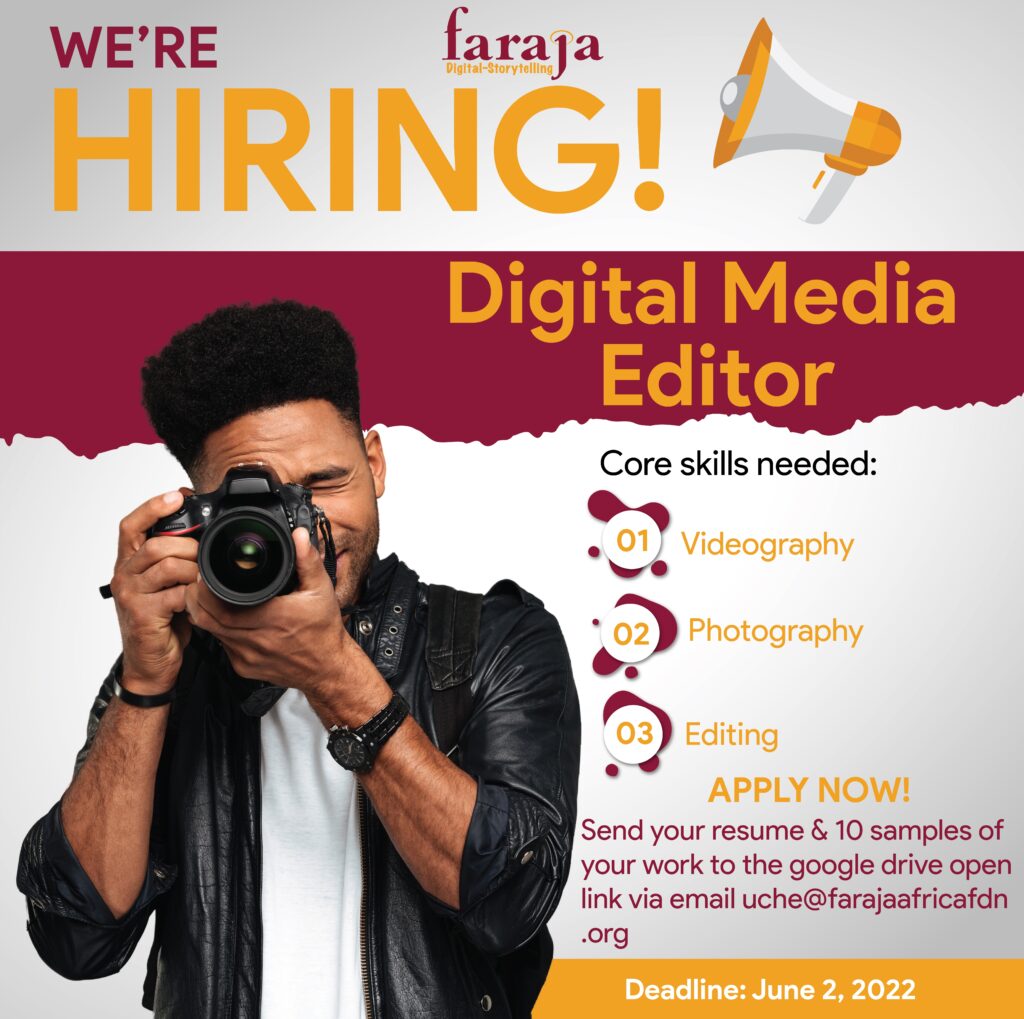 The Digital Media Associate will support the objectives of Faraja Digital
and be a critical team player of our fast-paced and growing Television &
Studio.
Faraja Digital's Communications Team:
● Create Educative videos or content for respective of our client's mission,
initiatives, and impact
● Advocates for issues important to our client /community
● Supports FD's advocacy strategies
● Provides a platform for our clients to share their stories on their terms
● Engages in tireless media advocacy
● Coordinates local, national, and international media relationships and
prioritizes placing stories to expose injustice, raise awareness, and move the
needle on community conversation
● Supports the marketing and fundraising efforts of FAF's Development team
FD's media advocacy has been instrumental in supporting our clients amplify
the voices of the community in exposing injustice, countering misrepresentation
and distortion of young and old people in mainstream media narratives and
impacting community conversation on issues impacting Uganda.
The Digital Media Editor's main role will be to develop amazing digital
media and generate content and supportive materials for FD's work in
communications to be used in various formats through the print, web, and social
media. The content will be written, video, photo, infographic, illustrative,
etc. (Note: emphasis on video, photos and infographic content).
Responsibilities:
● Creative Filming (Videography)
● Video editing on various apps
● Photography with fine editing
● Conduct Interview clients and produce client stories
● Create short films and storyboards
● Run broadcast for TV and online digital streaming
● 3D Graphic Design and normal
● The track earned media clips (radio, online, television)
● Content filing and archiving
● Camera Equipment and studio maintenance among others
● Develop monthly summary reports for Communications Officer
● Participate in communications updates and team meetings as needed
● Assist Communications Officer with media/communications related work
● Other media/communications related work as needed
Qualifications:
● Bachelor's Degree either in Mass Communication, Filming, Cinematography,
or the Equivalent
● Proficient with Microsoft Office, Adobe Creative Suite (Adobe Illustrator
and/or InDesign required)
● Video shooting and editing experience (Adobe Premiere, Adobe After Effects,
iMovie, Final Cut, Davinci and others)
● Experience in OBS or any other streaming platforms
● Experience in sound and lighting while in the field filming
You'll thrive in this role if you:
● Are committed to and engaged in field missions, client management, and
team joint direction
● Have the tenacity and willingness to change direction quickly as media needs
change or in response to current events
● Work well both independently and collaboratively
● See the big picture and have excellent attention to detail
● Possess excellent written, verbal, and interpersonal communication skills
● Are motivated, creative, and hardworking
To apply:
Please send a cover letter, resume, and up to 10 samples of your portfolio/work
product google drive open link via email to: uche@farajaafricafdn.org
*Note: Please include work product/portfolio samples that demonstrate your
experience with print, web, social media, video, and graphic design content
creation.
Deadline to submit application materials is Thursday, 2 June, 2022